Students Take Low Cost Apartments
Foreign exchange students flock to Bangkok every year and rent practically any and all low cost apartments near their schools. For those that do, knowing how to find an inexpensive but quality location is important so that the student has a place to relax, study and live at a reasonable rental price.
Options for Renting to Students
If you are a student in Bangkok there are a few different options. You can wait until you have arrived at your school and ask fellow students, get a feel for the community and do some research as to the best inexpensive apartments for students or you can reserve an apartment on the Internet in advance- when you get here. As the discussion progresses, each solution will have their strong points- in this review.
Some Vocabulary of renting in Bangkok
Bangkok terms for apartment renting should be the first thing you familiarize yourself with. Studio stands for a one room apartment and 1 bedroom is an apartment with one bedroom and one room- but each has a kitchen. In the city of Bangkok, the majority of the apartments are one room apartments approximately 30 – 45 square meters. Most have balconies which are used as kitchens to avoid bad smells. Also, they are used to dry laundry. If you happen to find a term that says "service apartment" this means that the apartment type hotel room has all its services which includes changing of the linens and room service. If you can do the cleaning yourself then do it, it will save you a lot of money. Service apartments are often times rented by employers of foreign companies or the employee himself because they offer more prestige and the employer is more likely to be able to afford the apartments. The convenience of the apartments is that the student is able to practice their independence not living in the dorms.
Check the age of the rental and the general appearance
Bangkok apartment buildings vary. However, if the apartment is 10 years or younger an is well maintained it will be more expensive compared to the older ones. A well maintained modernized apartment building is very important for select reasons a student would like to hear including they offer ADSL access. Internet access now is most important not only for the student in his studies but as a communicating tool for the loved ones from afar.
Security Considerations
The more attractive apartments often have EAS or Electronic Access Security and guards that stroll around the building, keeping the foreign student safe. The guards are very well trained and possess a high level of security against petty crimes such as snatching a purse or theft and are very welcomed in keeping students safe. Before a student transfers to Bangkok here one thing that you should do and is buy their own mattress. Most mattresses in Bangkok apartments are very hard and very uncomfortable to sleep on. The units do come with a refrigerator and television set. Air-conditioners are normally installed during the construction of the building however they are hard on the student's utility bill so check if its included in the rent.
Ways to Find Inexpensive Student Apartments
Many people are uncomfortable with renting an apartment through the Internet. For those that are, a typical scenario is for them to rent a hotel for a night or two and to visit the University to ask their fellow students for advice on where to rent and also good means of transportation so that they can get about the town. Other students will be aware of what is available, how much it is and how popular and well kept the apartments are. This is a good way to stay on track of what is available. Yet simply come by our office at its easy location and we can show you.
Long term rents for students.
Apartment buildings for students normally consider long term contracts. This is a simple arrangement that normally has the student engaged in a contract to rent for six months or more and they will be expected to pay three months deposit and the rate for the month. However, it is not difficult to obtain an apartment nor is it difficult to get out from beneath one.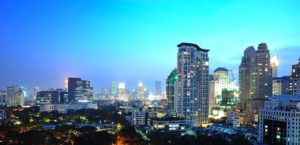 Many air conditioning units are old and faulty in Bangkok cheap rentals and the student should be prepared to use electric fans. They should dress accordingly to the weather to avoid added heat- such as light weight clothing and breezy clothing. Air conditioning also consumes much energy affecting the student's utility bill which can increase tremendously. And, lastly, they can be a fire hazard if they have not been well maintained. Faulty wiring often occurs in the units and the student should be extremely careful. There are many peaceful neighborhoods outside of Bangkok that are much cheaper than apartment living in Bangkok for student renters who may not mind some transportation issues.
Apartments Reserved on the Internet
The majority of foreign students usually choose this option. It is convenient, everything is pre-arranged and  do not have to worry about where to stay once they get here. However, most students choose to check into a hotel for a night or two. Remember you are in a completely new culture, a barren apartment seems unfriendly and scary and will surely appear strange at first site. It is helpful to have a place called home but you need time to build it. Students fortunate to find an inexpensive apartment is a nice thing. The exception is that renting through the Internet loses the ability to personally compare the apartments against one another. Be sure to do your background research and be absolutely sure that you are getting what is being claimed.  You can ask others for advice, through online forums, schools, etc.