I've learned the hard way that if you plan on getting a retirement visa in Thailand, it is easiest to apply for a 90 day Type O Non-Immigrant visa in your home country prior to arrival.  For the United States here is a
link to the LA Thai Consulate
. If you do come to Thailand on a tourist visa, you can choose to convert the visa to convert it to a 90 day Type O Non Immigrant or you could simply go across the Lao/Thai border and go to the Thai Embassy in Vientiane and get the 90 day Type O Non-Immigrant Visa there.   Be sure to obtain a statement of income from your home embassy in Thailand; basically a notarized statement of income that satisfies the minimum income requirements to retire in Thailand (around $2,250 USD).
Requirements for Retirement Visa in Thailand
The following is a current list of requirements to getting a retirement visa in Thailand.  Things are subject to change, so it's always a good idea to google for latest information (
it's a good trick to add the existing year while searching on Google; you are better assured to get more current information
).  Here is a
link to

Immigration Bureau Forms
 Step 1
You must first obtain a 90 day Type O Non-Immigrant Visa.  There is no way around this, I tried many ways.  You can choose to start the process at home, convert your tourist visa on arrival, or simply do a border run to Laos. You would then visit the Immigration office in your area (
ChaengWattana for Bangkok
).  Expect to spend 2,000 BHT for the visa conversion.  If you plan to leave Thailand, you must first obtain a re-entry visa (another 1,800 BHT) or you will need to start the process over again.
Passport (must not expire within 6 months – must have at least 6 open pages/both sides) with departure card
Copies of your passport, tourist visa stamp, and TM.6 departure card
Original and a copy of your current condo/apartment lease
Form TM.86 (do not sign it until you are told to)
Original stamped notarization of income statement from your Embassy (make a copy in advance)
Medical Statement of Health (easily obtained)
2,000 BHT
(2) 4×6 current color photos
Step 2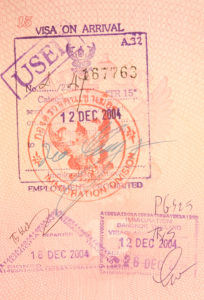 After 60 days of the date of your visa stamp, you can return immigration within 30 days of the expiration of your 90 day visa to convert it to a permanent retirement visa. From there you will need to submit form TM.7 along with 3,800 BHT to get a multiple visa entry; this allows you to travel in/out of Thailand and maintain your retirement visa and status.
Passport
 Form TM.7 (do not sign until you are told to)
Copies of your passport, visa, and TM.6 departure card
The stamped copy of your Notarized Income Statement (they give it back to you stamped in Step 1)
3,800 BHT
(2) 4×6 current color photos
*
 You then must check in either at immigration
or online every 90
 days (75 days actually) to keep your visa current.  There is no fee for this, and you should have copies of your current residence lease
Should I Pay a Professional ?
There are many ads out there for people that will help in getting a retirement visa in Thailand.  My own buddy referred me to an attorney who quoted me over 26,000 BHT (
be very aware people will try to get what they can from you
).  I decided to take this on as an adventure, and learned the steps the hard way.  If you opt for a service agent;  they should provide the two upgrade service(s), and will do your (3) following 90 day check-ins (required, but can be done online), you can offer to pay them 5,000-8,000 BHT for the year, over and above the fees (2,000 + 3,800)
Getting to ChaengWattana (Bangkok Immigration)
I found it was easiest to take BTS all the way to Mo Chit station and take a taxi (
make sure it's metered, they will try  a 400 BHT deal
).  You want to go to
ChaengwaTTANA Immigration (Building B)
.  Sometimes they get it right and drop you off at the correct end of the building; sometimes they drop you off the back and you have to walk all the way to the other side of the building (
quite a structure, actually
).  You'll know you're at the correct side, if after security, you see the door on the right for Immigration.  Hours are 8am-12pm (
lunchbreak
) 1pm-4:30pm .. Getting there early pays off, but the beginning and end of the week is busier.  There are copy places and food in the sub-ground level.
We hope you found this article for Retirement Visa in Thailand.  Consider us for your Bangkok housing needs; serving the Expat community and relocation to Bangkok for over 12 years with Residential Rentals, Property Sales, and Property Management Services.
Thaidox Co., LTD | BangkokFinder™ | BPM™ All rights reserved © 2004-2016