Real Estate in Thailand
As tourism sky rockets with millions of visitors and vacationers every year, real estate in Thailand has fast become a haven. Because of the beauty and interesting facts of the country, new houses, condominiums, buildings, and apartments are being built, sold, and rented every day.  As you get to know real estate in Thailand, the options are as diverse as peoples desires. Real estate encompasses land or its improvement. This has become a major business area because of the development of private property ownership. Real estate is a booming field in the US, UK, Canada and other big countries of the world. Nonetheless, it is also a huge business in Thailand.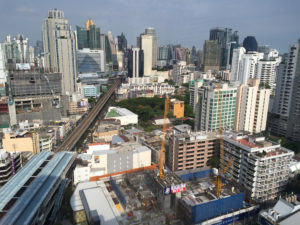 Thousands of foreign investors spend their cash on Thailand real estate. If you are a vacationer or a business man visiting this wondrous country, you can always think about buying a property here. However, for starters, Thailand only allows foreigners to own a condominium unit or rent houses and apartments. This rule is only exempted if a foreigner marries a Thai and/or becomes a citizen. However, this is not reason enough not to talk about the other amazing properties that you can stay at in the land of smiles. You can choose a lot of great real estate properties in Thailand. If you are here in a long vacation, say for a month or two, renting a beach front house or lot can be great. There are many magical beaches here that can enthrall your eyes and allow your body to surrender in deep relaxation. There are also ocean front beach villas mostly found in Phuket. They may be quite pricey but these properties are always negotiable. There are also beach front properties that you can very much afford with the foreign currencies that you have in your wallet. Apart from the great beach front real estate that Thailand has to offer, there are also secluded properties outside major cities that are great if you want to stay here longer than six month or just for a shorter time. There are homes or apartments in outside major Thai cities that you can rent. These are way cheaper than beach front homes and are also cozy. When choosing to rent one just make sure that it is in a safe location and near grocery stores or clinics. Homes located in areas outside the city are more relaxing since they are away from the usual city sounds. Here you can allow your body and mind to let go of all chaos surrounding you and then re energize for a tour around many great spots in Thailand.
Condominiums in Thailand are very popular for tourists. You can also choose to rent or purchase a condo unit in any of Thailand's hottest districts. You can go to Bangkok and go a real estate agent for adequate guidance on which condos are the best in town. What is so great about these units is that you can actually own one. If you decide to buy a condo, you can always rent it out when you go back home. There companies like Thaidox | BangkokFinder that provide Property Management Services to help you manage your unit while you're away.  There are many tourists, like you, who are willing to rent condo units from fellow foreigners. You cannot only enjoy your stay in Thailand if you buy a condo but you can also have great return of investment. Apart from beach front lots and homes, suburban houses, and condominium, another kind of real estate in Thailand stands out for tourists like you. Serviced apartments are very well known among tourists in Thailand. These are not your regular apartments because they are more like a hotel. It is well furnished and you can even call for room service if you want to. However,
serviced apartments
 are way better than hotels especially for longer stays because they are cheaper. If you are interested in getting to know real estate in Thailand; properties  in a specific area in Bangkok, you can always contact us at BangkokFinder to help find the ideal condo, house, or villa.