Investment in Bangkok
If you are considering investment in Bangkok, Thailand is one of the world's most visited countries; a kingdom where culture mixes with progress. The country is home to the most beautiful beaches and magnificent temples which testify to Thailand's own brand of heritage. Many people take part of Thailand's offerings through their wonderful scents, sounds, tastes and sights. Every day is truly an enchantment in the land of the free. The country's capital and most populated city is Bangkok. The city has been branded as an Alpha global city because of its magnitude in the field of commerce.
Krup Thep Mahanakhon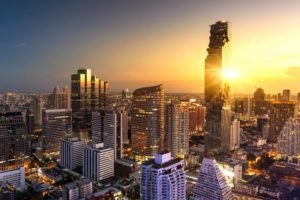 Bangkok is known in native Siam as Krup Thep Mahanakhon. It is a very busy city filled with trade and businesses. The economic stability of Thailand is largely due to its industrious people which make it a hotspot for a lot of multinational companies. The city is known for its world influence on fashion and entertainment, which makes it in a sense, very similar to its western counterpart Los Angeles, which also happens to be called by the same title, the city of angels. Bangkok is a highly industrialized and urbanized city that is not only great for visiting but for living in.
Sukhumvit Road
If you are an investor in  Bangkok, looking for great property, then undeniably, this is the place to find one. And where better to invest on a property than in the popular Sukhumvit road. Sukhumvit is one of Thailand's major roads and is the major surface road of Bangkok. It is a great strategic location to access all the major sights in the city. It is a long stretch of 400 km road that is a hot spot of tourism in Thailand. The road is of great cultural value to local residents as it not only bridges the major places in the city, but it also plays an important part of the city's, and the country's history. The road connects a lot of places in the city like the districts of Pathum Wan and Khlong Toei among many others. It evens continues on to Thailand's major provinces like Chachoengsao, Chonburi, Rayong, and others. One of Bangkok's major sky way stations is also located in this road, the Skytrain Sukhumvit line. There are literally hundreds of great property and land investments in the area being a very long stretch of road. In fact, the area is top ranked among the residential western expatriates areas. It is no wonder why the road is a popular location for Bangkok's top entertainment plazas, luxury hotels, shopping malls and the likes. If you are seriously thinking of investing on a property in this area whether for commercial of residential purposes, then one of the best places along the road is in the area of Thonglor. It is a trendy area which is home to the younger, more fashionable crowd of Bangkok. The area is home to a multitude of restaurants, cafes, shops and bars. A lot of high rise condominiums can also be found in the areas which are also great property investments.
Thonglor
Thonglor is also accessible to downtown Bangkok through the BTS station which is in the heart of the long stretch of Sukhumvit road. If you are planning on settling down in an area like this, you wouldn't run out of great apartment deals as well. In fact, the place is largely comparable to Los Angeles' Hollywood, the place being home to a lot of popular entertainers and performers in Thailand. If you truly want to experience Thailand, then this is the place to start. The area is also near other strategic property investment locations like the Cho Phraya river, which attracts millions of tourists every year. One of the most popular districts in Bangkok is also accessible in this area, the Thongloi district. There are other areas in Sukhumvit which are as strategic and are worth a look, like the Ratchada and Lao Pra areas. In fact, a lot of western expatriate retirees settle in this area every year because of its warmth and vantage. When buying a property in Bangkok, it is good to do a lot of research so as not to limit yourself. You'll be amazed at what your money's worth can buy in this goldmine of a city which is ideal for both residential and business purposes.