There are approximately 11 million international visitors in Bangkok each year. No doubt hotels are in demand catering to both leisure and business travelers. New types of temporary housing offerings have developed to cater travelers; one is serviced apartments in Bangkok. For the past few years serviced apartments in Bangkok have become one of the favorite choices of living, especially for business travelers on short stays.
More affordable than Hotels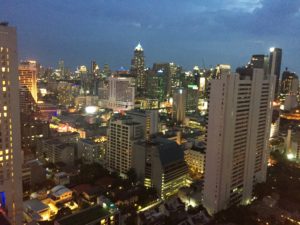 Considering serviced apartments in Bangkok is a great option to a hotel, if you are here for an extended period of time.  It is ideal if you are business travelers, or with family, having a place to stay before permanently moving to Bangkok, or to stay for longer period of time.
Key Players
Three major groups that offer service apartment in Bangkok are: The Ascott Sathorn Group, the President Group, and The Centre Point; offering first class accommodations. There are other serviced apartment in Sathorn, Silom, and Langsuan areas. Newer developments are Bliston Suwan Park View Bangkok, Fraser Place Urbana Langsuan Bangkok, Mayfair Bangkok Marriott Executive Apartments, and Natural Ville Executive Residences.  BangkokFinder has relationships with all of the major serviced apartments and hotels that offer serviced apartment services;
check with us here
for best pricing and options.
Many Options
There are 177 service units at the Ascots, ranging from studio units to three bedroom units. Each unit offers living area, dining area, kitchen area, and bedroom. All units are fully furnished and with wireless internet connection. There are 228 spacious suites at the President with a free shuttle service;  offering state of the art amenities. Centre Point is considered the top of the line for executive serviced apartments in Bangkok; also hotel and residence. They operate 8 properties in Bangkok's prime locations.
Why Consider Serviced Apartments in Bangkok?
Why people choose service apartment? Service apartments are made to meet the traveler's essential needs. They cater to different types of people such as business traveler or family traveler. Each unit is fully furnished and fully equipped, with entertainment systems, living and dining area and kitchen area. The service that you receive is the same with hotel like daily chambermaid services, change of towels and linen, recreational facilities, restaurant and parking.  Facilities, amenities and service vary among service apartment but because of increasing competition, they keep updating their facilities to attract more visitors.
Amenities
Most service apartments have a convenience store, coffee shop, and a bakery; if not located inside the building, it is most always located nearby. They also offer laundry services, corporate services, and have recreational facilities like fitness gym, spas, saunas, swimming pool, play area, and parking.  All have 24 hour security and maintenance.
Pricing
Price of service apartment also vary, it depends on the type and size of the property, number of bedrooms, facilities, services and length of stay. Length of lease is usually one to twelve months. For shorter stays, it operates similar with hotels, because most of them are licensed to operate as hotels. The price advantage of service apartment is the longer you stay, the lower the rate per night.
 Benefits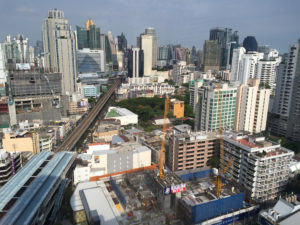 Benefits of service apartment are privacy, competitive rates, and living lifestyle. Travelers want the privacy that they are getting while staying in service apartment because buildings tend to be intimate and secluded. You will have less destruction or noise from other guest and staff. It has competitive rates because the rates are weekly or monthly unlike hotels charge a daily rate. Rates for multiple rooms are much lower than hotel rates so this is very ideal for families and friends. Service apartment has a touch of home, so you feel at home though you are far away from home. There are several service apartments available in Bangkok, Thailand for your temporary stay. It is up to you which location you want, what type of property and depends on your budget. Do you want to be near your business location, restaurants, nightlife, shopping area or tourist spots? Always choose a place where you will have easy access to transportation especially the expressways,
BTS Skytrain
, or
MRT Subway
to avoid Bangkok traffic.
Need Help?
BangkokFinder
has established relationships with several key Serviced Apartments in Bangkok; for more information and discounted pricing options, please
contact us
here.
We hope you found this article for Serviced Apartments in Bangkok.  Consider us for your Bangkok housing needs; serving the Expat community and relocation to Bangkok for over 12 years with Residential Rentals, Property Sales, and Property Management Services.
Thaidox Co., LTD | BangkokFinder™ | BPM™ All rights reserved © 2004-2016