If you're interested in renting luxury condominiums in Bangkok, you are in for a treat; Bangkok has always been a vibrant city, pulsating with life, regardless of time, be it day or night. With its worldly charms of ancient traditions and a humble culture, combined with the age of modernization and globalization, the merging of two worlds is most clearly seen in the capital city of Bangkok Thailand. It is of no wonder that tourist, young and old alike, flock there to experience a culture different from theirs.
Rental Market Bangkok
In time, as Bangkok rises to the occasion of competing with economies beyond its country's border and even region, the high participation of foreign investors in its economy has helped boost the country's economy, benefiting locals and foreigners alike. Not only is there a boost in the economy, there is also a boost in the real estate rental market. This has spurred many residential projects across the city, however only a number of property developers dared took the risk of creating luxury properties, creating a niche of market that is surprisingly in demand. Now, more than ever, there seems to be a variety of unique choices to choose from if one decides to splurge on a good living space right smacked in the city center. With many more Condominiums due to be completed in the next one or two years to come there will be a good supply for rent or lease. Below are some of the more well-known locations for renting luxury condominiums in Bangkok. All rental prices below are to simply give you and idea and are not meant to be exact as rent varies depending on many factors.
The Empire Place Condominium
The Chicagoan inspired building consists of 45 stories and with it 493 units of 1,2,3 bedrooms units as well as penthouses and pool penthouses. As one of the larger capacity of luxury condominiums around down town, one can't help but be pulled in by the distinctive architectural design of big windows and large space. A typical unit fetches around 39,000 baht per month for a one bedroon and up. What more can one ask?
Le Raffine "Jambunuda" Sukhumvit 31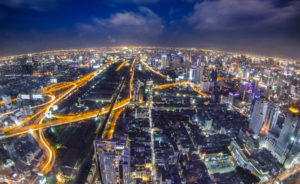 The 30 story condo located along one of Bangkok's longest road as well as one of Bangkok's major four highways – Sukhumvit Road, offers a breath taking view of the city, allowing one to enjoy personal space amidst the chaotic hustle bustle of downtown Bangkok. Equipped with its own private horizon-less pool that comes together with a jet spa, each unit comes in two stories with a huge 4 bedroom rough estimate of THB 200,000 month.
The River
The River is Raimon Land's greatest project by far. Strategically placed in between Silom and Sathorn districts overlooking the Chao Phraya River, it features a unique mix of choices from 1 – 3 bedrooms units to soaring duplexes and penthouses. A unit of 3 bedrooms is estimated to be a rough 100,000 thai baht per month.
North Park Place
Besides Bangkok's famous reputation as a shopping paradise, it is also one of the Asia's top golfing destinations. Hence it comes of no surprise that North Park Place is nestled within one of Bangkok's exclusive golf clubs, known as the Rajpruek Golf Course. Seated amidst lush green horizon, the 17 stories building contains 128 units of bright living spaces intended to harmonize with the lush green that stretches beyond the unit. The price has been estimated to be a rough 120,000 thai baht per month for a 4 bedroom unit.
Sukhothai Residences
With a rough figure of THB 35,000 for a typical two bedroom unit, it is one of the emerging exclusive luxury condominiums that decorates the Sathorn district. The Residences contain two 57 story towers located within the Sukhothai Hotel compound. Choices range from 2 bedrooms units to 4 bedroom units and an exclusive choice of penthouse. Of course, when renting luxury condominiums in Bangkok, there will also be an even more niche market of super luxury condominiums. One might ask, what then is the major difference between luxury and super luxury condominium? The difference will be that while usually, luxury condominiums price will range from THB 80,000 to THB 200,000 thai baht rent to super luxury condominiums will range from THB 250,000 thai baht rent and up per month . Indeed, it was a very, very niche market for I only found one in Bangkok by far.
Le Raffine 'Jambu Dvipa' Sukhumvit 39
Christened the 'Jambu Dvipa', the 34 story building sits on the infamous Sukhumvit Road, boasting 59 of single and duplex units mixed. The unique name comes from an ancient Thai Manuscript written 650 years ago by King Lithai of Sukhothai Kingdom, depicting a mythological paradise of magnificent beauty. Each unit comes with 2 to 6 fixed parking spaces. The owners of duplex units have the liberty of swimming and enjoying a glass of wine while admiring the beauty of the exotic city from their own pool when night dawns. The price? THB 149m.  We hope this article for renting luxury condominiums in Bangkok is helpful.  Feel free to
contact
us if we can help find the home that fits your style.