In years past, political events in Bangkok have raised concerns about whether the country could recover from the any trouble if a crisis did emerge. Stand-offs between "red shirts & yellow shirts" and government  temporarily shake the nation and somewhat affects the country's tourism industry…. for how long… a few weeks?  Although months pass before the effects on Bangkok's economy are noticed; Thailand watchers say there is little or will be there any major change in the real estate market. This is the story of Thailand; something happens, it changes, and then "sabai-sabai".
Supply of Real Estate Investments
The total overall supply of an expat standard apartment in Bangkok actually increases approx. 2% each year and 85% rate occupancy rate. Rents have been increasing in some locations, including the Central areas, although it fell slightly in other areas; a reality of any market. Despite the increase in the number of hotels all over Bangkok; occupancy rates still increase wutg average daily rates fluctuating. Since 2010 the arrival of international tourists has been on the increase and Thailand's Tourism Industry gradually increases each year. However, when Bangkok stand-offs happen; there is a predictable short term loss of tourism.
Summary of Real Estate Investment in Bangkok
On the lighter side, the property market in Thailand, particularly the real estate, did not actually react the same way it does with countries like US and UK, when these countries suffered economic downturn. Prices of real estate properties in Bangkok did not increase rapidly although on the flip side, it did not collapse. In an nugt shell the pattern is generally stable, as compared to when the US was hit by economic crisis.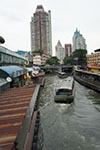 This is maybe due to the fact of the different fundamentals in Bangkok real estate market. One issue is with the dropping us currency value owners from the US in Bangkok saw an increase value of around 20%. In answer to the question on how the Bangkok property market is coping up with all these turmoil, it is probably best to consider the mentality of Bangkok property owners and investors as well. These people were not necessarily looking at the short term gain, and so they are not at all affected with the various political or social instability in a major way. They remained positive and believe that these things will just come to pass as they have for more than 100 years. In fact, when the Red shirts encamped in the Rajaprasong area, there was really no major reaction from the people, and the economy itself. There were no mass drop in on the prices of goods and even the Bangkok rental market remained stable.
For those looking for condominium properties to buy in Bangkok, there's good news to them. There are values to be had here and stable investments.