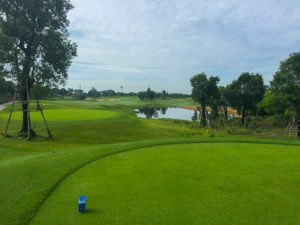 Today's Golf Review Nikanti
Golf Club
;  located in
Pantip
 roughly an hour drive (sans traffic) west/northwest of town.  This review of the course includes, amenities, conditions, and a special running until the end of October, prior to the upcoming 'busy' season of golf (Nov-Jan).
Get There Early
Nikanti
 is worth the trip and the early rise; beat the traffic, and enjoy the amenities, which include both a very nice buffet breakfast, late lunch, stunning locker rooms; showers, sauna, Jacuzzi
(the facility overall is quite modern and well laid out)
.  The first booth you reach, after the guard gate is the bag drop, from there you drive up to the clubhouse entrance.  The pro shop is adequate and well stocked
(I didn't have much of an opportunity to peruse the pro shop much)
.
Special Running until Oct 31
The current weekday promotion can be viewed on the homepage of
Nikanti Golf Club
; includes round of golf, golf cart w/GPS, caddie fee (sans tip), free buffet meal before and after your round… all for only ฿ 3,000 THB.  Reportedly, this may soon become a private club.  This is one of the best deals around for the quality of the course, the services, and the facilities.
Greens, Lush Fairways, Reasonable Roughs
I found 
Bang Sai Country Club
 very enjoyable…
Nikanti Golf Club
has it beat with facilities, and the course is quite comparable.. probably playing a bit better.  The greens run true and responsive; so they are nice to attack with nothing domed; putts track very well and reasonable to read.  The fairways are very well maintained 
(noted that the grounds-keeping staff is very keen to its clientele re: noise, passing, etc.).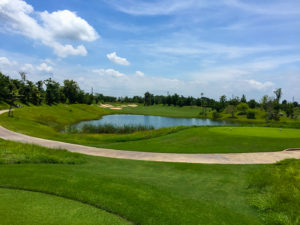 The caddies seemed very experienced and quite conscious of making sure you are comfortable and well tended to.  The second cuts are kept in great shape, as well.. as a result, most places to make a recovery from.  Also, all the tee boxes are level and manicured; truly enjoyable.   We opted for the blue tees; about 6350 ft and never felt like it was a stretch.  One bit of a bummer was a restriction to cart paths, due to heavy rains the night before; the caddies are more than happy to shag for clubs.  If they do restrict to cart paths, a suggestions is to simply walking the course from tee to green, and the caddies are happy to shag the clubs for you.  I walk with a distance rangefinder, so between their GPS and your statistics, they can bring proper club selection(s).
We hope you find this article for Golf Review Nikanti helpful.  Please consider us for your or your friends' housing needs; serving Bangkok for more than 12 years in Residential Rentals, Sales, and Property Management
Thaidox Co., LTD | BangkokFinder™ | BPM™ All rights reserved © 2004-2016