This article pertains to Bangkok Property Investor Speculation.  Last year saw a massive leap in Bangkok's real estate as property developers launched one new project after another in high-rise residential housing.  This activity came on the heels of Bangkok's economic stability, the city having drawn in more foreign investors from around the world as well as locals looking for high income from employment opportunities present.
GDP set for Growth or at Least Stable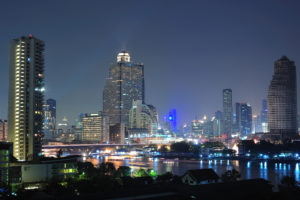 To date, Thailand's GDP has risen by 7.8 percent last year. Not even political unrest caused by street protests in Bangkok have dampened the spurt in the capital's real estate, and things are looking even better now as political stability has been reached through the recently conducted elections. The launching boom was such that real estate experts had feared the ominous presence of a bubble caused by an oversupply of residential property projects in the city and its surrounding areas.
Now is Always the Time for Bangkok Real Estate Investment
Concerns don't seem to have daunted property developers in Bangkok as plans to launch and complete a new 77-story tower are presently underway.
The Baiyoke Tower
, standing tall and proud over the city's skyline, was in danger of having its title usurped by the new 
MahaNakorn
. At 315 meters high,
MahaNakorn
is valued at THB 19 billion (US$ 640 million), holds posh condominium units, business shops and a
Ritz-Carlton
hotel. The 
MahaNakorn
is a splendid addition to Bangkok's real estate market, not to mention its attraction for tourists. The Bank of Thailand has pointed towards low interest rates and buyer confidence in new residential property as the main forces that drove the 2010 business boom. Last year saw a 13.6 increase in new home registrations. The bank, while assuredly on the lookout for any signs of an impending bubble in Bangkok's real estate, has ventured its own worries regarding concerns being given by buyers. As purchases have lessened after 2010, developers have been coming up with competitive packages in order to market their developments, such as offers of two-year interest-free financial payment plans for first-time home buyers. The bank has sought to maintain stability by providing higher loan-to-value prices for financial establishments.
Doubts on Real Estate Sales Benefit Investors
Differing opinions on this trend have come from various sectors of the real estate industry. While many have doubts regarding the ability of developers to fill their empty units, others remain confident that any bubble that might possibly burst over Bangkok will be limited only to a few business sectors such as companies dealing in cement, steel and building materials. On the whole, the warnings have been shrugged off, with
MahaNakorn
as one big piece of evidence.