The construction stage completion of Bangkok's tallest building=- MahaNakhon Tower, was a spectacle to be seen.  Lights from outside and inside illuminated the 314 meter high building located at ChongNonsi; central business district between Silom and Sathorn.
High Expectations with High Dollar Units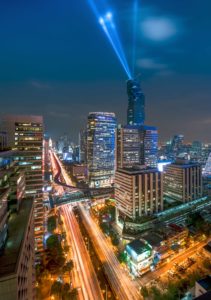 The high-end project to consist of residences, hotel services, a panoramic viewing deck atop the 77th floor with a 'Sky Tray' glass floor, and a seven story 'ManaNakhon CUBE' shopping center.  The residence, hotel, and viewing deck set to be opened in 2017.  The building, owned by PACE Development, boasts a luxury design to include a hotel, retail business shops, bars, restaurants, and a Ritz-Carlton Residences condo.  Also, a
Morimoto Restaurant
(SE Asia's first) will opening (yum).
Edged Out by Only 10 Meters!
The 304-meter Baiyoke Tower II in Ratchathewi District held the title for tallest building in Bangkok for 2 decades.  Perhaps an 10.5 meter antenna could grab the prize again??  What's a 10 meter difference while viewing such spectacular vistas!
Tallest Buildings in the World
We love our Bangkok, Thailand… though the Empire State building still ranks at over 440 meters.. and the very tallest is held in Dubai.. at a mere 828 meters! Here's a fun link for the
tallest 100 SkyScrapers in the world;
looks like Bangkok gets the #67 spot!
We hope you found this article for Bangkok's Tallest Building.  Consider us for your Bangkok housing needs; serving the Expat community and relocation to Bangkok for over 12 years with Residential Rentals, Property Sales, and Property Management Services.
Thaidox Co., LTD | BangkokFinder™ | BPM™ All rights reserved © 2004-2016