There are different residential types of housing in Bangkok, one being a house. Bangkok houses are homes with their own lot and own space separated from neighbors.  They are very different from apartments, condominiums, and townhouses. If you are considering renting or buying a house, here are few things that you should know. Whether you are buying or renting a Bangkok house, the price is quite expensive compare to other types of property You can find properties along Sukhumvit, Silom , Sathorn, Thong Lo, Ekamai, Phrom Pong, and Bangna-Srinakarin areas. Foreigners cannot purchase a house, or real property; if you own a Thai company, the company can purchase property. It is advisable to consult both International and Thai Lawyers.
Luxury Homes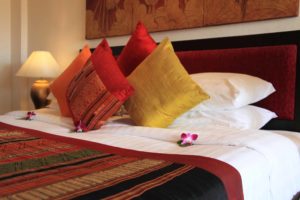 There are exclusive and luxury Bangkok apartments and condos that provide wonderful facilities and amenities.  There are also higher end houses which are newer and more modern styling, private swimming pool, landscaped garden,  and other amenities.  Another popular option are secure compounds; houses withing a secured and walled tract.  Nicer properties are difficult to find, as most houses are older Thai style; there are some modern Bangkok houses available, and quite in demand, presently.
House Expenses to Consider
Houses demand higher costs due to the space and privacy offered; obviously ideal for larger families and those who want to be away from city life. It is spacious enough, yet you may also need to consider the maintenance of the place, inside and outside and that cost. You may need to hire a maid, gardener and security guard to maintain and secure the place. But if the house is not that big, you may no longer to hire in-house helpers. One advantage in choosing a house is possible savings on utility bills. Bangkok Apartments and Condos typically have a minimum charge on water and surcharge on electricity. In renting or buying a house; you pay only what you have used. When it comes to security, most Bangkok houses do not have their own security guard unless you hire one; unlike  apartments or condo that usually offer twenty four hour security. Bangkok has hot, wet, and dry seasons, so AC is very important; especially to expats who are not used to hte climate. Always check if the Bangkok house has AC, ensure that it is working, serviced and cleaned; also check how old it is, because older AC requires more maintenance and consumes more energy. Check the water pressure, especially the second floor, ensure that the water pump is working and there is water upstairs. Since most house property is outside the city, it is best to check if you have telephone lines, because it is hard to apply for it. Telephone connection is a must especially if you are using the internet. There is a common maintenance fee (moo baan fee or community fee) that you need to pay, sometimes included in the rent, but mostly a separate payment aside from your rental. This fee is used to maintain shared pool and garden and twenty four hour security. So before signing a contract, check if this fee is already included on your rent or not. During rainy seasons, there are certain places that experience flooding; it is best to check if that place is flood free. If you live in a high rise building this is usually not be a problem; unless the lobby gets flooded. The supply of Bangkok houses is limited in Bangkok, so you it may be difficult to find the right property for you; with the help of real estate agent, they can do much of the work and lessen the burden. Agencies possess the skills for negotiating and getting best deals.  It is advisable to select a real estate agency who has served in the Bangkok for an extended period; they know the best areas, building, and have a larger inventory, typically.
We hope you found this article for Bangkok Houses useful.  Please consider us for your Bangkok housing needs; serving Expats relocating to Bangkok for over 12 years with Residential Rentals, Property Sales, and Property Management Services.
Thaidox Co., LTD | BangkokFinder™ | BPM™ All rights reserved © 2004-2016